Frederique Constant will introduce nine new Horological Smartwatches in early November
The smartwatch industry hasn't taken off like many had hoped it would. The biggest Android Wear watchmakers have slowed down on new releases, the Apple Watch didn't sell like many expected, and smartwatches still have a long way to go before they could be considered the industry's successor to tablets as the "next big thing."
But that hasn't slowed down Manufacture Modules Technologies (MMT), the partnership that started between Silicon Valley (Fullpower Technologies) and Switzerland, that gave us the smartwatch modules in the first line of smartwatches from watchmakers Mondaine, Alpine, and Frederique Constant last year. MMT was a subsidiary of Frederique Constant until the watchmaker was acquired by Citizen earlier this year, and MMT was spun out.
Now on its own with a new CEO, MMT is back to making smartwatch modules for Swiss watchmakers — now with new and improved features. Its newest modules will debut in a new line of smartwatches from Frederique Constant in early November.
MMT'S NEWEST MODULES ALLOW FOR CALL AND TEXT NOTIFICATIONS WITHOUT A DIGITAL DISPLAY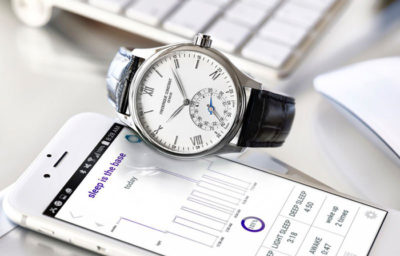 The first generation of smartwatches with MMT modules could track your movement, sleep, and activity, all of which have been improved on the updated modules. The new modules will also allow for incoming call and message notifications. Since the watches don't use digital displays, information will be displayed using the hour and minute hands, as well as a vibrating motor.
For example, if you press the crown, the minute hand will point to an icon of a walking man on the dial, and the hour hand will show you what percentage of your activity you have completed. Calls and text messages will make the watch vibrate and point to the corresponding icon. The interface is designed to be informative but not totally intrusive.
Peter Stas, the CEO of Frederique Constant, tells The Verge that the company will introduce nine new and distinct designs of its Horological Smartwatch featuring the new module later this month — five women's watches and four men's watches — ranging in price from $595 to $995, in an attempt to give consumers more choices than the smartwatches coming out of Silicon Valley.
"What we want to do with our Horological Smartwatches is to first create a beautiful watch design. So we still have the dial, we still have the diamond cut hands, we have the applied markers, we have cases that are polished by hand," Stas said. "The reason why there has to be so many different designs is because people have different tastes and they don't want to look all alike. You probably wouldn't like it if there were five colleagues walking around with the same shirt and the same shoes and the same pants, right? It's the same with a watch which is an even more personal object for many people than just a shirt or pants."
The company, which is known for making well-designed yet affordable watches, will probably have an easier time selling one of its Horological Smartwatches to someone in the market for an actual watch versus someone who is looking for the latest smartwatch, and that may be okay. If Frederique Constant and other watchmakers can convince their customers to consider a smartwatch with a familiar design, the industry could pick up traction outside of the Apple Watch.
Frederique Constant isn't the only company pushing these smart-traditional hybrid watches, with Withings and Fossil both offering their own takes on the style. The model is likely catching on because, as Stas pointed out, a digital display still isn't a major selling point for people who buy traditional watches, it's all about the physical design.
"THE PRIMARY REASON PEOPLE BUY THESE WATCHES IS BECAUSE OF THE DESIGN."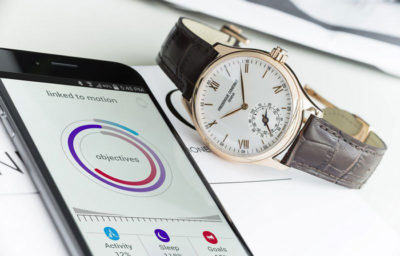 "We know from research and from hundreds of years of work that the primary reason people buy these watches is because of the design," Stas said. "They really want to have a beautiful product on the wrist. And then, okay, you can debate what you find beautiful, it could be a classical watch with a beautiful gold case and a dial with small applied markers, diamond cut hands, or it could be a sports watch like a Breitling with tons of turnable bezels and flight information. But again [it's] typically with hands and not with a digital display."
Frederique Constant is still keeping the design of the smartwatches under wraps until they are released later this month, but after they begin shipping, the watchmaker will have 15 distinct smartwatch designs on the market, far more than any other smartwatch maker. (Apple's different bands and materials for the same model smartwatch don't count.) The company says the watches will begin shipping sometime later this month, so it won't be long before you can get your hands on one.
Source: The Verge
Related Posts